Prospective Residents
If you are looking to rent a home or apartment in Milwaukee or surrounding areas, we have an inventory of single family homes and apartments for lease. When you rent from us, you can be assured of a high-level of professionalism with quick maintenance response. If you qualify, we would love to have you as a tenant in one of our properties. We take pride in a personalized service to our owners and residents.
View Properties Rental Application
If you do not find your perfect rental by searching our inventory, please complete the requested information to the right. Locating your perfect home or apartment rental starts here.
If we do not list a property in the area you wish to live in, rest assured you can still experience World Property Management's high level of service. We are a full service company and that extends to finding you your Perfect Rental. We have access to the MLS and other online rental publications.
Resources & Forms
Milwaukee Area Map
Neighborhoods of Milwaukee
Milwaukee's North Side
Arlington Heights
Brewers' Hill
Franklin Heights
Granville
Harambee
Bronzeville
Havenwoods
Hillside / Lapham Park
Metcalfe Park
Midtown
Park West
Sherman Park
Thurston Woods
Uptown Crossing
Milwaukee's South Side
Bay View
Clarke Square
Holler Park
Jackson Park
Jones Island
Layton Park
Lincoln Village
Mitchell Street
Tippecanoe
Town of Lake
Walker's Point
Milwaukee's East Side
"The East Side"
Brady Street
East Village
Murray Hill
Riverwest
Beerline B
Milwaukee's West Side
Avenues West
University Hill
Cold Spring Park
Concordia
Enderis Park
Grantosa Heights
Martin Drive
Merrill Park
Piggsville
Mount Mary
Story Hill
Walnut Hill
Washington Heights
Washington Park
Milwaukee's Downtown
East Town
Menomonee River Valley
Historic Third Ward
Westown
More Info
Let Us Help Find Your Rental
Milwaukee Area Information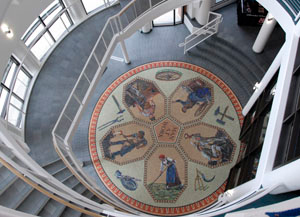 Milwaukee is the largest city in the U.S. state of Wisconsin and the 28th most populous city in the United States. Known for its brewing traditions, major new additions to the city include the Milwaukee Riverwalk, the Delta Center Miller Park, an internationally renowned addition to the Milwaukee Art Museum, and Pier Wisconsin, as well as major renovations to the U.S. Cellular Arena. In addition, many new skyscrapers, condos, lofts and apartments have been constructed in neighborhoods on and near the lakefront and riverbanks.
Many people from around the world make their way to Milwaukee for various reasons: attending a business conference; visiting family and friends; taking in the world's biggest music festival; or simply enjoying the area's natural beauty and central Midwestern location. Once you visit, you soon realize Milwaukee is a great place to call home.